The primary aim of the Painters' and Limners' Guild is to advance the study and practice of the medieval painter's art prior to 1600AD. The Guild shall endeavor to encourage all who are interested in the painter's art.
The secondary aim of the Guild is to recreate a medieval or renaissance guild of painters, and the Guild encourages research and activities towards this end.
The Guild shall promote any form of painter's work which can be demonstrated to have been known and performed in Europe and the Middle East before 1600AD. This includes but is not limited to the following (which may overlap):
- Drawing: ink, chalk, lead, silverpoint etc.
- Fine arts: fresco, murals, still-life, portraiture including limning, painting for lockets, studies with water colours on paper or vellum &c
- Panel painting: religious panels, icons in the manner of the Greeke church, altarpieces, armorial hatchments etc
- Painting on wood: parade shields, saddles, toys, furniture, etc
- Painting on cloth/leather: wall hangings, banners, dossals, parade gear, pavilions, equipment
- Painting on glass and ceramics or any other substance that is not paper, vellum or parchment
- Design: jewellery, embroidery, buildings etc
Printing with cut plates of elm, linden or other wood
Printing in the Italian manner or other printing with plates of metal.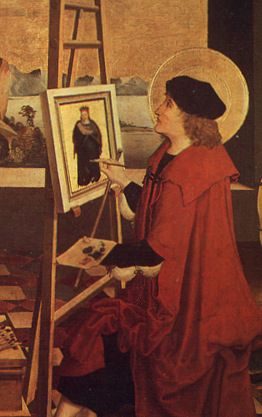 St Luke, Paton saint of painters